Gormanston Summer School 2005

Every year the Summer School is reported in these pages... In 2005 I have tried to show a few different aspects to what has been shown before. The ever increasing use of digital cameras is reflected in that the pictures have come from several individuals.

The school holidays in Ireland are long and during the summer, various courses, conferences and events take place in the buildings of the Franciscan College at Gormanston. Among these is out beloved beekeeping summer school, which has run continuously since 1947 and has been sited at Gormanston since 1961.
The College buildings are quite large and have extensive grounds, opposite the main entrance is a large statue of St. Francis with a dog, various other sculptures are dotted around, both inside and outside of the college buildings. The green background of this picture is the flank of the magnificent yew walk that is pictured below.

The college is a secondary boarding and day school that is administered by the Franciscan order and has it's own website.

Other groups also hold various events and functions during the summer holidays, there was a drama group following the beekeeping summer school, as there had been last year. The link has many photographs taken on the Gormanston campus, some of which show other views of the college premises.
One of the first things that you need to do after arrival is to register and get your photo ID badge. Michael Woulfe or his wife Kathleen, will give you an envelope that contains a blank ID card with your bed or room number, you then take this card to a room where the college staff will take a photo of you and laminate the badge. The room number is recorded as you enter the dining room and enables the college to keep track of how many meals are required or served.

The quality of the Polaroid photos is sometimes rather variable, this year was notable in that almost all images were so dark as to be unrecognisable. However the process of producing the cards and pictures generates much mirth.

The picture at right shows one of the college summer staff making adjustments to the elderly Polaroid equipment.
The course opens with a formal welcome from FIBKA officials and Government Ministers.

This opening ceremony is followed by a cheese and wine reception, after which many relocate to the 'Huntsman' or the 'Cock Tavern'.

For those that do not wish to use the pubs, there are coffee facilities, the picture below left shows Theresa serving customers at the coffee dock, she is well known among Gormanston attendees and is always laughing at something or other.
The Foyer, coffee dock and the boat shaped seat are regular conversation places, in the photo above right... Myself Sandra and John were deep in discussion, I expect it was a bee subject of some sort, but I cannot remember what.
The Guest Lecturer this year was Paul Metcalf, B.A., N.D.B.

Paul has a 'schoolmaster-ish' approach to lecturing. There was nothing wrong with his lectures, but I, along with many others was a little disappointed in the low level at which the lectures were pitched and the lack of understanding of the differences between the unregulated BBKA examination system and the solidly grounded FIBKA system.
I always seem to end up travelling to and from Gormanston at unusual times or on Sundays, and have several times been the last beekeeper off the premises after the summer school. This year was different, I arrived so early on the Sunday morning that I was the first attendee apart from Philip McCabe who had installed the observation hive and then left.
My accommodation this year was in 'Siberia', I had heard of this place before, but had never had a room there, my enquiries as to how the name arose were answered by "it is in the east and it is always cold"... I can vouch for the accuracy of the description.
I am a member of the Leicestershire BKA and we hold summer apiary meetings on Tuesday evenings, at which we run a 14 week course for prospective beekeepers...

I act as a clerk at such meetings and as part of whole package I try to tell the newcomers about Gormanston and how it would benefit them, but this Year, there were only two other attendees from L&RBKA.
| | |
| --- | --- |
| Conversation is a large feature in any gathering of beekeepers, this can vary from a group of two up to ten or so and can vary from sitting on the lawn to having a beer in the pub. | |
The two guys in the picture above are Clive de Bruyn and our New Zealand friend Pav, who used to be a regular member of the Irish Beekeepers Discussion List
| | | The Midlands Bee Breeding Group erected a nice looking, mesh sided, demonstration tent, but during the storm that raged during the Thursday and Friday it suffered a little. |
| --- | --- | --- |
Thursday and Friday were shrouded in heavy rain, so much so that the beginners practical examinations had to be conducted indoors using empty bee hive equipment and the facilities offered by the observation hive, by which candidates could be tested in their recognition of workers, drones, queens, brood, honey and eggs.

This disruption is unusual, in fact this was the first occasion in the 58 year history of the course that it had happened.

Each year, somewhere in the region of fifty 'would be' beekeepers or beginners attend this course and achieve their preliminary certificate.
There is a Drone Congregation Area (possibly two) on the Gormanston college site and attempts are made to demonstrate this using a long fishing pole and a pheromone lure, here Micheál Mac Giolla Coda holds the pole aloft, but apparently this year only one drone was located.
Various demonstrations take place out of doors using colonies of live bees.

Beginners are shown how to open a hive, how to recognise the various castes of bees and how to detect eggs and all the other stages of brood as well as what to look for when checking for swarm preparations.

Demonstrations are also done on how to assess colonies for breeding potential and workshops in grafting larvae are given.
| | | |
| --- | --- | --- |
| The Microscopy Workshop is always popular. | | |
Wednesday lunchtime means the group photo on the main entrance steps, this picture shows the group being marshaled ready for the 'official' shot.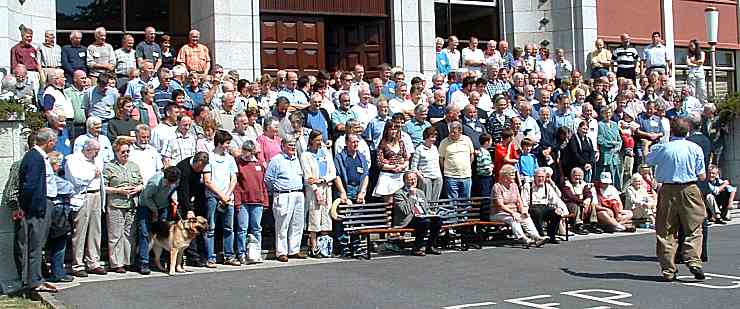 Titled... 'Woodwork in Beekeeping with basic tools', the workshop given by John Donoghue shows what can be done, but beware, John is so supremely skillful that he makes it look especially easy. This does not mean that beekeeping carpentry is restricted to those with a high level of skill, it is possible to purchase (quite cheaply) a mitre saw that will bring control and repeatable accuracy into the work of those that desire to do a bit of hive work for themselves.

A few simple jigs can make a great deal of difference to making a batch of supers or other items. Aim to make batches of ten at a time and after a bit of experience has been acquired, you will be surprised at how professional your work looks.

Many DIY depots and timber merchants now offer a cutting service, so you can purchase blank billets of timber already squarely cut to precise sizes for you to complete, which can save an appreciable amount of time.
The following montage of pictures were taken at various times during the Gormanston experience, hover your mouse or check 'properties' for the picture captions and photo credits (depending on your browser).
I may add a few pictures later as I am expecting a few from some of my other pals.
The 2006 summer school will be starting Monday July 24th and runs to Saturday July 29th, when the guest lecturer will be Richard Ball.
For details and booking write to:-
Michael Woulfe,
Railway House, Midleton,
Co. Cork. Eire.
or phone 00353-(0)21-631011.
Email Contact can be made via...
Eddie O'Sullivan
eosbee@indigo.ie