Gormanston Summer Course 2009

Federation Of Irish Beekeeper's Associations

Irish Beekeepers
Summer Course 2009 Franciscan College, Gormanston, Co. Meath

Monday 20th July to Saturday 25th July

Federation Of Irish Beekeeper's Associations Website
Guest Lecturer...


CELIA F DAVIS
The Pines, Hodgetts Lane,
Berkswell, Coventry, CV7 7DG
England


Celia F Davis first acquired bees in 1980 with a single nucleus. She fairly rapidly expanded to 14 stocks, which she ran for many years, split between the home apiary and an out apiary, marketing the honey through local shops. Four years ago she sold some of her colonies and now keeps 5 colonies, all kept at home in National hives. She has reared a small number of queens over the years, mostly using a Jenter kit system and mating from 3/4 frame nucs. Celia has a degree in Agriculture and had taught pure and applied biology for some time. She was interested in education and worked her way through the BBKA examinations winning the Robert Hammond Award and the Wax Chandlers' Prize for BBKA Intermediate and Senior Beekeeping Exams respectively. She obtained her NDB in 1994.
She was a member of the BBKA Examinations Board for 6 years (in the 1990's) and remains an examiner for the BBKA and tutor for the BBKA Correspondence Course. She has run a beginners' course for many years and, in 2008, this was expanded, more teachers were recruited and the size of the class was expanded considerably. Celia regards this as a very important part of her beekeeping activities. She also runs, with another Warwickshire member, a course for those wishing to take the BBKA General Certificate in Beekeeping Husbandry.
Served as Secretary to the Warwickshire Beekeepers' Association for 11 years and is now the President. In 1997 the editor of Bee Craft asked her to write articles for the magazine, a job that lasted for 10 years, and, arising from these articles, She wrote two books, The Honey Bee Inside Out (published in 2004) and The Honey Bee Around and About (published in 2007).
She spends a great deal of time talking to various groups as well as many beekeeping organisations all over the country.
Course Convenor: Michael Woulfe

Course Manager: Eddie O'Sullivan

Assistants:Sean Barrett, Pat Linehan, Sally Maxwell Eamon Magee

Monday 20th July
Evening Meal at 5pm & Official Opening at 7pm, followed by Cheese & Wine Reception
Evening Meal will NOT be served after 6pm on Monday.
Lecture Streams
Advanced, Intermediate, Preliminary
Workshops
Beeswax, Microscopy, Morphometry, Hive Making, Queen Rearing, Swimming, Tennis, Golf.
National Honey Show, Annual Congress, Food Hygiene Induction Skills Training Course
Please bring protective clothing with you, if you intend to work with live bees.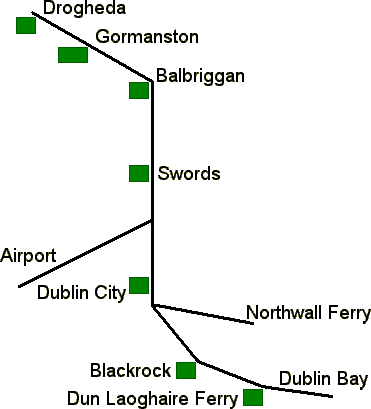 How to get to Gormanston
Ferry
Ferries from England arrive at Dublin (North Wall) and Dun Laoghaire (Dun Laoghaire to Dublin is 9 miles). Foot passengers should travel to the Central Bus Station, Store Street, Dublin, and then by bus to Gormanston. Do Not use the Express Bus Service because it does not stop at Gormanston. Ask to be let down at 'The Huntsman Inn' which is only a few hundred yards from the back entrance to the college.
Train
Take train from Connolly Station to Balbriggan Station and then a taxi to Gormanston College.
Please note... The College is quite a distance from Gormanston Train Station.
Car
Gormanstown College - Grid Co-Ordinates 53° . 37' N - 06° . 14' W
Car Drivers approaching from Dublin use the new motorway to Belfast and take the slip road for Julianstown/Drogheda South. Turn right just before The Huntsman Inn and proceed for about a mile. The College gates are on the right.
Dublin Airport
Gormanston is about 20 miles from Dublin Airport on the road to Belfast. A special bus will leave the airport for the college at 4pm Monday and a return service will leave the college at 1pm on Saturday.
Board the bus in Airport Coach Park, through the multi-story car park door under the raised canopy and out the other side.
Intending bus passengers please notify Michael Woulfe when making reservation.
The service bus from Dublin to Drogheda calls at the Airport. Ask to be let off at 'The Huntsman'.
Sleeping Accommodation
Rooms and cubicled dormitories. En-Suite rooms may be available if cancellations occur.
Only limited family accommodation available. Early booking advised because of reduced accommodation.
A list of B&B Accommodation in the area available from Convenor. Beekeepers opting for B&B should make reservations with proprietor of the chosen accommodation.
Terms... FULL WEEK

En-Suite rooms
€375
Rooms
€310
Dormitory
€295
€10 reduction if paid before 30th June,
Children under 13 yrs 15% reduction
Minimum Deposit
€40
Additional B&B (if required)
€30

Non Residents Attending:

Lectures Only
€16
Lectures, Lunch & Evening Meal
€43
Lectures & Lunch
€27
Lectures & Evening Meal
€32
Lunch
€11
Evening Meal
€16
Please note day rate will be charged for any stay less than a week. Above prices include tea/coffee at 10.30 a.m. and 3.30 p.m. each day A deposit of €22 is required by the college when securing your dormitory key, €20 is refundable on returning key.
Send reservation form with deposit or full fee to

Michael Woulfe,
Railway House,
Midleton,
County Cork.

Closing date is Friday 17th July 2009
Please make cheques payable to F.I.B.K.A.

Cancellation to reach course Convenor at least 7 days before opening day otherwise cancellations and non-attendance will be subject to a cancellation fee.

Residents will supply their own soap and towels, bed linen and blankets will be supplied.

Editors Note... The flier also includes a tear-off reservation form, I have prepared a web version that can be printed out, filled in and then mailed to Michael Woulfe, along with your payment.

If you wish to exhibit in the Honey Show, please apply to Honey Show Secretary for Schedule,
Mr Redmond Williams, Tincurry, Cahir, County Tipperary, Tel + 353 (0) 52 42617
Email: emwilliams@eircom.net
The photographs used on this page were provided by FIBKA or Michael Gleeson.
Written... 24 August 2008, Corrections... 10 September 2008,
| Source Code last updated... | | | |
| --- | --- | --- | --- |