Albert Knight is one of those beekeepers that there are not enough superlatives to describe. He has been a stalwart member of BIBBA for many years and has held many posts in that organisation. He is a retiring sort of guy and he will be embarrassed by the praise that I am heaping on him in this text, but credit has to be given where it is due and there are very few that deserve as much as Albert Knight.
Albert is pictured at right while he was at Gormanston during 1997, he was a regular attendee of the Gormanston Summer school, supported and accompanied by his wife Sylvia, he has been unable to attend since 2005 owing the health problems, his cheery face is missed by those that gather every year at that venue.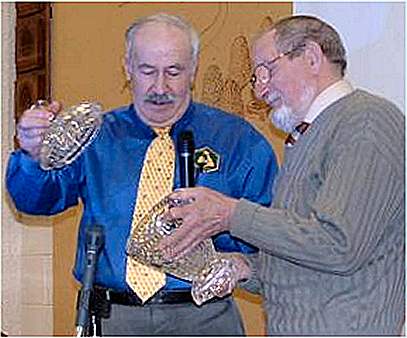 Albert retired as Honorary Secretary of BIBBA after 19 years of outstanding service to BIBBA and its members. However he carried on as group secretary until finally handing over to Sandra Unwin. The image below or left shows Albert being presented with a crystal vase at the BIBBA Agm 2006 in recoginition of the outstanding service he has given over many years.
Morphomtric confirmation of findings made by assessing behavioural characters is strong on Alberts list of involvement. The links in the menu above attest to his aspirations in this direction. There are other morphometry files that are due to Albert Knight and his colleagues on my Downloads page.
In Addition to the documents and articles, Albert has freely passed on many tips on all aspects of beekeeping, but especially in grafting, queen raising and introduction.