Dadant Bee Hive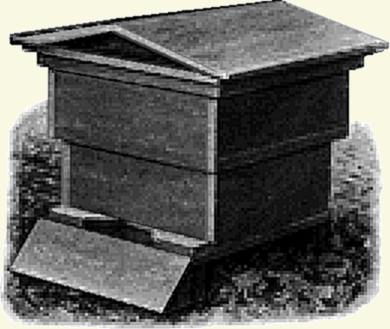 This type of bee hive has many common features with the Langstroth type and is often confused with it, so much so, that the terms Langstroth/Dadant or Dadant/Langstroth are in common usage for all parts, not just those that can be used on either system.
The largest influence of the Dadant hive is in the Dadant depth supers and frames commonly employed on many Langstroth hives.
Buckfast Dadant is a twelve frame version that has a square body. These are mainly found in areas that are close to Buckfast Abbey or in places where Bro. Adam's followers have gathered into groups.
Dadant Blatt seems to be a name only used in Europe. Some sources say it is simply another name for the Modified Dadant (MD), but there are both 10 and 12 frame versions of the Dadant Blatt, where the MD has 11!
A websearch gives much conflicting information. I don't know where Dave Cushman found the picture on the right or what it is.
These hives are the largest in common use and in my opinion are far too big for beekeeping in the U.K. unless very prolific bees are kept. Certainly all of my colonies would be lost in them!
There are dimensional and construction details here for U.K. Dadant hives. This information is by kind permission of the Scottish Beekeepers Ass'n.
Roger Patterson.