| | Glass Vials for instrumental insemination of honey bees |
| --- | --- |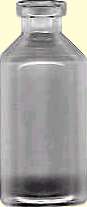 Also known as glass phials these small bottles are used widely in the pharmaceutical industry. The particular example shown here is 10 ml in capacity and they are normally fitted with a self sealing rubber membrane top so that a syringe may be filled from their contents. They can be used for storing tips and holding saline during the instrumental insemination of queen honey bees.
The dimensions are... 52 mm tall, 22.5 mm or 23 mm major diameter with a rim that is intended to accept a 13 mm diameter crimp closure top.
The large flat base of this type of vial, is useful in insemination work as they are less likely to be knocked over, whilst working, than some smaller types. The relatively narrow internal diameter of the neck helps to ensure that contamination by airborne dust and microbes is kept to a minimum.
My personal supplies of this item are assured as I am diabetic and consume a couple of bottles of insulin per week. I am collecting and washing my used vials and they will be available for free distribution at future IINGRIDD Meetings. IINGRIDD has become BIIG (Bee Instrumental Insemination Group), they have their own website.
I am on the lookout for suitable snap-on plastic lids or plugs for these vials and I would welcome details of other types of vial for inclusion on this page, that may be available under a similar circumstance as makes these available.
I am also on the lookout for any other glass tubing, petri dishes, test tubes or any other items of equipment that would normally be thrown away, for inclusion in the register of II equipment items that can be made available to Insemination Group members.
In order to make these small bottles even more 'un-spillable' it is possible to turn a metal base that the vial will sit into that is much broader, giving much greater stability.

The material thickness and overall diameter are not critical. Dimensions given ar in mm.

Polished stainless steel is an ideal material from a hygiene point of view, but use whatever material that you have available. For purely aesthetic reasons I would go the extra mile and turn a shallow chamfer on the outer portion, but the most weight will be retained by not doing so and the simplest design will cost the least if you are having the item made at an engineering works.
Written... 03 October 2001, Revised... 19 April 2002, Upgraded... 20 April 2005, Amended... 18 August 2006,