Gormanston Summer School 2004

NOTE:- Some of the pictures are high resolution and may slow down loading.

Travel details for getting to Gormanston have been added to this website since this page was first written and can be reached on this link.
This is my personal view of a annual convention organised by the Federation Of Irish Beekeeper's Associations, that I have now had the privilege of attending five times. As this event follows a similar pattern every year there are similarities with previous events that are linked at top left.
Many members of FIBKA and UBKA attend as well as about fifty from the UK mainland and a few from further afield.
The event is held in the magnificent Franciscan college at Gormanston in Ireland. During term time this is a school and boarding school.
The college staff make us very welcome and tell us that they enjoy the week with the beekeepers very much. They are always cheerful, even after staying until midnight in order to shift a great many desks and chairs.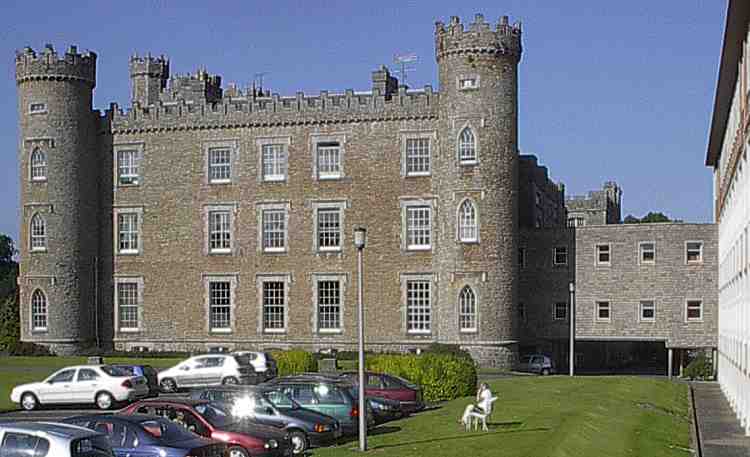 The "Beekeeper's Lounge"
(room 14) is where you can relax in an armchair, snooze or watch beekeeping videos.

The video being perused here is the "honeybee's fingerprint"
(a BIBBA lecture given by Ashliegh Milner) about the use of biometry for establishing and qualifying the racial origins of a strain of bees.
I have described previous Gormanston conferences and last year I gave a sort of virtual tour of the buildings, whereas this years page fills some of the detail in.
The guest lecturer this year was:-

Clive de Bruyn BSc, CEng, AIM, AMInstF, NDB.

Clive became a beekeeper in the late 1960s.
He has wide ranging interests and qualifications, including the National Diploma in Beekeeping. He has 'hands on' experience as a beekeeper in many parts of the world, as well as being a bee farmer and a government adviser at the National Bee Unit, UK.

He has spent many years studying varroa and its effects on beekeeping and is the author of many papers and books on beekeeping subjects.

Here he is... relaxing in the Cock Tavern, discussing beekeeping over a beer.
Beekeepers talk a great deal amongst themselves, with non beekeeping visitors and staff as well as the lecturers. Here are some chatting in the corridor outside the Federation Office.

The notice board is a feature of this corridor and it contains all sorts of information about changes of lecture or a change of room number for a particular lecture or workshop, the prizes for the golf tournament or showing the group photo that is normally taken before Wednesday lunchtime and can be purchased.
In the Basement there are drinks machines, vending machines and a 'tuck shop' as well as a couple of informal sitting areas.

Unfortunately the tuck shop was shut at the time of photographing, but there is always next year!
Coffee, tea and biscuits are served here at the 'Coffee Dock' during the mid morning and mid afternoon breaks in the lecture streams. Cans of fizzy drinks, biscuits and crisps are available in the tuck shop at various times.

Opposite the coffee dock there is a large wooden seat, affectionately known as 'the boat'
The main corridor is always busy as it has the notice board, is used as a meeting place, has the Federation Office, Treasurer's office, the beekeeper's lounge and a couple of rooms at the end where equipment suppliers set up their stalls and can supply many of the needs of beekeepers.


These offices are multi-function... Michael Woulfe is the course convener and is aided by his wife Kathleen. Eddie O'Sullivan is the course manager. Many others also help in the background to ensure smooth running and coping with events as they unfold.
Dr Breandán O'Cochláin is the education officer and will take your entries for the examinations, if you are taking them.




The main corridor also houses an observation hive that has a tubular entrance set in a wooden plate that temporarily replaces the window that would normally be present.
This year the traders were Ben Harden and Park Beekeeping Supplies. Both rooms were busy for most of every day. This was so evident that I had to bide my time to find the rooms lightly occupied otherwise my photos would merely have been a 'sea' of bodies.
Ben Harden's room...
Park Beekeeping's room...
The following snapshot album was taken in the Cock Tavern, where along with the 'Huntsman' across the road many of us gather in the late evenings for yet more discussion on our various bee topics. Some of us enjoy this aspect of the conference, but please do not go away with the impression that drinking is compulsory... As all tastes are catered for.
The pictures are mostly left without explanation, although some of them have cryptic titles. The first one is Ruary and Sally larking about... There is some history behind this and the 'joke is on me', I should explain that I had a 'senior moment' in producing the Gormanston 2003 webpage, whereby I managed to 'marry off' Sally for a few hours to Mark Winston, luckily my error was spotted by Ruary and I corrected it quickly. I include last years's picture as well, now that it has been explained.
Guinness features quite strongly in my trips to Gormanston and my liking for this drink is well known... One evening while I was sitting on the boat I was given a plaque by Micheál Mac Giolla Coda that has pertinence to Guinness the page linked from here describes it, as well as a little information about my previous involvement with the Guinness company.
The formal lectures that I attended were all of an incredibly high standard... Clive managed to surpass even his well known ability and produced a series of entertaining and informative lectures that would be hard to top by anyone.
It says a great deal about his style and competence, if I tell you that this year was the first year that I have attended every lecture given by the guest lecturer.
Tuesday evening has a couple of meetings that are pertinent to me, the first of which is the meeting of BIBBA members and is shown at right.

The second of these is the meeting of overseas visitors. This was instigated many years ago by Karl Showler (a one time regular at Gormanston). The crowd gathering for this meeting is illustrated below.
Thursday evening saw us all gathering for a small set of lectures on alternative varroa treatments. This was lead by Tom Barratt (the owner of the Irish Beekeeping list and included a presentation on varroa treatment in Denmark by Annette Remez (left picture below).
Friday evening saw us in the audience for the lectureship examination of Bee Flavin Dunphy... She was a little nervous, but she passed OK (right picture above).
Saturday morning the last session including the presentation of certificates, awards and golf prizes was held in one of the lecture theatres this year as the college staff were making changes for the incoming drama group that would be the next weeks occupants of Gormanston. Here Clive gets some commemorative silverware and Claire Chavasse picks up the rose bowl and certificate for being voted 'Beekeeper of the year'.
Saturday afternoon and Sunday morning were spent in the company of John Burgess at a local B & B, who kindly gave us a lift to Dublin airport.
The 2005 summer school will run at Gormanston in spite of Apimondia being held three weeks later in nearby Dublin. The course starts on Monday July 25th and runs to Saturday July 30th... I recommend it! You give it a go!.
For details and booking write to:-
Michael Woulfe,
Railway House, Middleton,
Co. Cork. Eire.
or phone 00353-(0)21-631011.
Email Contact can be made via...
Eddie O'Sullivan
eosbee@indigo.ie
This year's Summer school had quite a 'buzz', partly due to large numbers... Including participants from South Africa, but also due to slick organising and extreme professionalism in those that organize and present the program of lectures and workshops.
I said last year that I have pledged to be there myself and I repeat myself this year as I intend to make the annual trip to Gormanston every year that remains of my life. I hope the page above has whetted your appetite as I believe that this event, although heard about by many, is not understood to be the magnificent event that it really is. No matter what continent you live on... This meeting is well worth the effort.