| | Live CD version | |
| --- | --- | --- |

Guinness... A dark porter like stout beer

The following words have been lifted from Guinness's website, but as I personally like it, I could not have said it better...

GUINNESS® Original has a unique heritage.
This is the classic GUINNESS® immortalised by toucans and slogans such as 'GUINNESS is good for you' and 'GUINNESS for strength'.

Stronger in taste and strength, with its distinctive toasted bitter flavour, and longer matured than GUINNESS® Draught, GUINNESS® Original is a carbonated stout first brewed in the late eighteenth century by Arthur Guinness and in those days known as 'Porter'. Today the beer is still brewed in Dublin and is 'conditioned' in a second yeast fermentation before being taken to Runcorn in Cheshire to be packed into cans and bottles.

This 'conditioning' process produces a truly original stout beer with a light, sharp crisp flavour and alcohol content of 4.3%.

| | | |
| --- | --- | --- |
| I have fond memories of the toucan image and the winking face in the head of a glass of Guinness. I grew up at a time when Britain was impoverished by WWII and in order to decorate my bedroom my mother cut out toucans and winking glass images, along with other advertising logos, from various magazines and stuck them on to the wall as a sort of frieze. The decoration was left in place until the late 1960s. | | |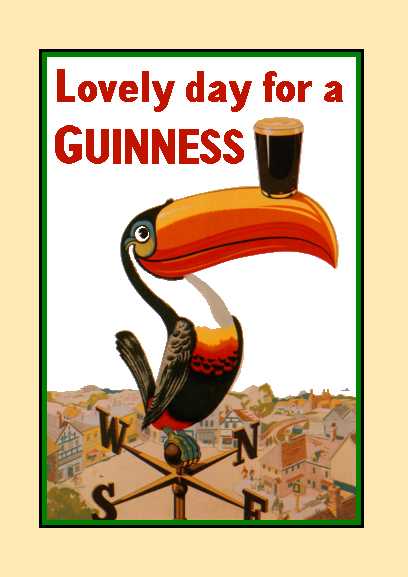 Many more Guinness adverts and posters are available on the official website linked above left, however you will not find references to some of the places, products and people mentioned here.
I have some prints awaiting framing, that I include here... The original images are copyright, so these images are facsimiles.
These days my consumption of the brew is much reduced owing to the incompatibility of alcohol with warfarin, but I am still allowed one drink per day... I cheat a little at Gormanston and reduce the warfarin so that the Guinness can thin my blood instead.
Apart from some memorable adverts and posters I had no involvement with Guinness until about 1970, when I discovered that bottled Guinness served cold was a very refreshing and tasty drink.
Between 1975 and 1982 I had some professional involvement with the Park Royal Guinness brewery in London, both in a free-lance design capacity and as a sub-contract supplier. The official place within the brewery that the public could drink was called 'The Toucan', but I spent much of my time in a place known as the 'Greenway Arms', at least that was the legend that was painted in a rather wobbly fashion on a bar that was equipped with dozens of types of beer delivery equipment, the department was 'technical services' and the man in charge was Wally Greenway.
Over the period 1980 to 1990 there was a promotion whereby you could claim 'T' shirts with various Guinness designs and motifs by sending in ring-pulls from cans. I managed to collect quite a few of these, but they are all 'worn out' now.
The small plaque shown below in the format of a prayer was given to me by Micheál Mac Giolla Coda, during the Gormanston Summer School of 2004.
We believe in one drink, Guinness the almighty;
Makers of cans and bottles;
Of all that is drunk and un-drunk;
We believe in one brewer;Arthur.
The only son of Guinness;
Eternally begotten of the hops;
Hops from hops, barley from barley,
True drink from true drink.
Begotten, not made
Of one distiller of the Father.
Through it, all things were made
for us men and our salvation.
It comes down from St. James Gate.
By the power of the market, he became incarnate,
and was made a rich man.
For our sake, we are crucified under Pontius Prices,
Bad pints, suffer hangovers and AA meetings.
On the next day we rise again in accordance
with our scruples and ascend into oblivion.
We come again to judge the living and the dead.
We believe in one alcoholic beverage,
Brewed and bottled under license.
We acknowledge one, Arthur, inventor of the almighty pint
Conceived in heaven, and sold on earth.
Blessed is the one drink, through one father and many sons
Sold under one label and distributed throughout the World.
We look for the resurrection of new drinks,
And a cure for hangovers,

Amen.
| | | |
| --- | --- | --- |
| This one was on the hoardings during the 1950s... It has been entirely re-drawn for this illustration. | | |
| | | |
| --- | --- | --- |
| I'm not certain when this 'Pure Genius' slogan was first used... Again it has been re-drawn. | | |
I have no time for draught Guinness whether it be from pump or widget primed can or bottle. I prefer the original version, which comes in bottles or cans, but is best served from a pint bottle that has been chilled. My favourite venue for drinking the beverage is the 'Cock Tavern' at Gormanston in Ireland as well as the Galtee Inn in Cahir also in the emerald isle. and the links at the top of the page contain some photographs that have been taken in the Cock Tavern.
During the time that I spent working in the Park Royal brewery, various experimental brews were made that you may never have heard of, as they were trialled 'in trade' over only a small area of Southern England. These were 'Lite Guinness' and 'Guinness XXX' one of these was a low carbohydrate version and the other was a version with an alcoholic strength about half that of normal bottled Guinness. In later years, when I became diabetic, I started drinking a mixture of bottled Guinness diluted with Kaliber (a non alcoholic beverage also brewed by Guinness) which I found rather refreshing.
One of the things that I developed for Guinness was an electronic fruit machine built into a bar top beer dispenser (fount). The sensitive and delicate nature of the electronics meant that the normal method of producing the head (top hat restrictor) in the feed pipe could not be used and so various 'nozzle restrictors' were developed in order that the equipment did not need regular dismantling. I have an example of this device somewhere in my attic and I will produce a webpage about it sometime in the future.
My preference for Guinness is well known among my friends and apparently has spread quite far, I had an Email from a South African Gentleman, whose name I have unfortunately forgotten and the original Email cannot be found.

The Conversation went something like this... My preference for Guinness had been noticed from my web pages, I was asked if I had ever been to South Africa and replied that I had not, but that my father spent some time there during WWII. While there he drank Castle Lager and that beer is available in UK (I usually buy my father some at Christmas time). My correspondent commented that there was a stout brewed by the Castle company known as Castle Milk Stout, but I was unable to find it in UK.

I thought no more about it until a strange shaped parcel arrived at my house in late January 2008. The parcel had been posted in South Africa and contained a bottle of Castle Milk Stout, there was no sender's address and so I cannot thank the sender personally, the drink was consumed the evening that it arrived and the image at right is of the empty bottle, I enjoyed it, but found the flavour a littler bland to my taste, although it was a pleasant and warming drink. I my benefactor ever reads this page, he will understand why he has not received acknowledgement and direct thanks.
Guinness as well as all other brewers also supply yeast left over from the brewing process to the company that makes 'Marmite' yeast extract. this feature was turned into an advertising promotion, resulting in the special edition Marmite product that you see illustrated at right.

The image is a composite of drawings and photographs.
Printed from Dave Cushman's website Live CD version