Toggle Fasteners
This type of fastener can be used for clipping hive parts together.
This page has been created by combining three pages that showed items manufactured or supplied by different sources. All the images are as left by Dave Cushman to show a small selection of the different designs available.
Although I have never fitted toggle fasteners myself I have seen them used on hives on many occasions, though usually by beekeepers with a small number of colonies. In order to maintain compatibility they need to be fitted carefully and held in place with woodscrews - in some cases these may be supplied. If many are to be fitted it would be prudent to make a drilling jig to enable perfect, repeatable positioning of the two parts.
The principle of toggle fasteners is good as you can achieve a lot of pressure in the same way as you get with "Mole Grips", but they are a nuisance if you have added thickness such as a framed queen excluder.
I once bought some hives from a man who was losing his sight and many of the hive parts had toggle fasteners. They were poorly fitted and the hive parts were numbered so they matched up. This didn't work too well as they had to be next to the right bit and the right way round as well. It didn't matter normally, but I was doing pollination work in fruit orchards at the time and I needed to secure the hives for moving. I refitted them all and they worked reasonably well, but I gave them up after a time. They can get in the way when manipulating colonies and take up extra space when storing parts. At one time they were sold by equipment suppliers, but this is no longer the case, presumably because they are unpopular.
Toggle fasteners could be useful for nuc or swarm boxes where there is a need to have the parts separate and they are moved from one site to another.
To buy singly would probably be quite expensive, but a websearch for "toggle fasteners" will reveal a large number of designs and suppliers.
Roger Patterson.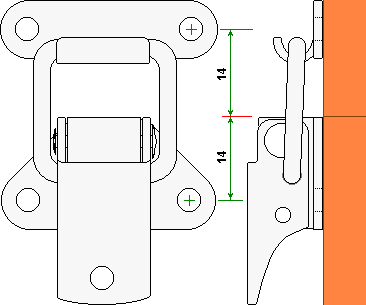 The above are lightweight and would be better suited to nuc or swarmboxes. You can see who the manufacturer is and obviously Dave Cushman did the drawing to suit that sample.
This type of fastener can be locked by placing a split-pin or bent piece of wire through the hole that can be seen below the shackle in the side view above. This feature could be useful if the box is being moved by a non - beekeeper!
All the following examples are heavier duty and would be more suitable for full sized hives. All these examples are adjustable.
Another type........
And another type........

Another view, this time with the latch closed, is shown for completeness.
And yet another type.........
Another view, with the latch closed, is shown to complete the views.